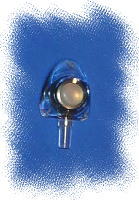 An implantable port, sometimes also called a "reservoir", is a medical device that is connected to an indwelling catheter and implanted under your skin. The reason for using an implantable port is to reduce problems for patients and medical teams related to catheter insertion during medical treatment. Regularly scheduled, repeated treatments can be easily performed with the use of this medical device.
An implantable port is generally shaped like a UFO, with a diameter of approximately 3 cm. It is connected to a catheter that is placed in your blood vessels or internal cavities such as chest, abdomen, and so on. The port has a chamber that connects to the channel of the catheter and a silicone rubber roof that can be punctured by a non-coring needle, which is inserted through the skin. After the needle is pulled out, the hole in the silicone rubber roof immediately seals. Therefore, because of the self-sealing silicone rubber roof, the implantable port makes it possible for you to receive repeated drug administrations over a long period.
There are three types of implantable ports: intra-arterial, central-venous, and intra-peritoneal ports. They are used worldwide in various medical treatment settings, especially for out-patient and home-based care.